What We Do
Gift of the Needy's reach in terms of aid distribution and projects, extends from South Africa in Southern African countries.
Gift of the Needy focuses on the following forms of aid: medication for illnesses, food parcels, cash, depending on the circumstances of the needy person, prosthetics for paraplegics, maintenance of widows with children, education at schools, clothing, water wells in places that are poor or poverty striken. We also grant assistance to paraplegic people as well as land mine victims on a monthly basis.
Your contribution can make a big difference to the lives of many families that are in dire need of basic necessities. Besides all these wonderful acts of good deeds, The Gift of the Needy is currently involved with breakfast schemes at schools, offering school kids a warm nutritious bowl of porridge, filling their hungry stomachs, together with heartwarming feeding schemes at many kids AIDS and TB homes.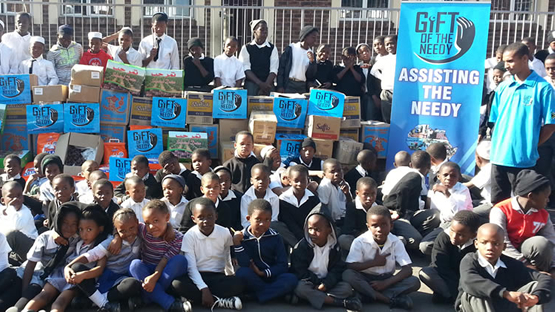 Daily feeding scheme:
- Summerfield Primary School ( approx 300 students )
Weekly feeding scheme:
- Food Hamper distributions on an ongoing basis in Durban, JHB and PE.
Our intention is to carry out these feeding schemes on a daily basis to many schools where kids arrive hungry. With the Grace of God, together with the keen support and donations of all our faithful doners, Gift of the Needy is progressing day after day.
We appreciate every bit of contribution as every small amount of yours can make a huge difference.